This post includes a step by step tutorial which will help you to start traditional Kuligrpahy with a ballpoint pen.
With printable worksheets, a lot of information and solutions to common problems.
Let's start to learn traditional Kuligraphy…
Grab your tools
Take a BIC Ballpoint pen*, Paper* and a piece of Cardboard.
BIC Cristal Xtra Bold Ballpoint Pen,1.6mm, Black,*
Price: € 7.49
Buy now at Amazon*
Price incl. VAT., Excl. Shipping
Last updated on 2. June 2022 at 00:08 - Image source: Amazon Affiliate Program. All statements without guarantee.
Laid Premium Paper, Brilliant White, 97 Brightness*
Price: € 26.39
Buy now at Amazon*
Price incl. VAT., Excl. Shipping
Last updated on 2. June 2022 at 00:08 - Image source: Amazon Affiliate Program. All statements without guarantee.
You may ask… Why do I need a piece of cardboard?
That's simple: The cardboard serves as a soft pad underneath the paper to create lines with different thicknesses.
It will look like written with a fountain or a brush pen.
Here you can see an example with and without cardboard under your paper.
Tip: For the best results you should use a Kuligraphy pad.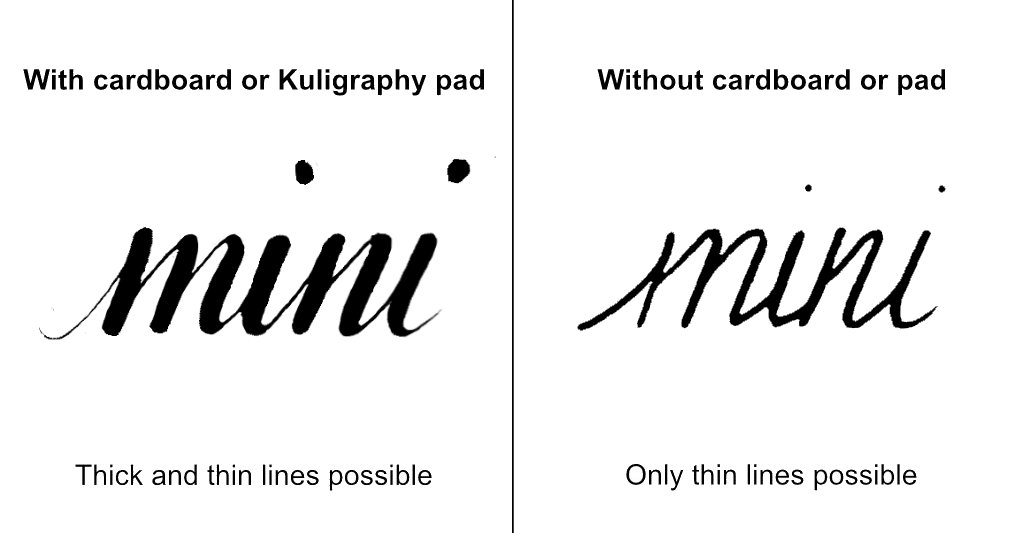 Did you notice the difference? I mean both words with those lines would look nice and neat.
But the left one, written with the cardboard and different line thicknesses, has more style and elegance.
It looks like it's written with a fountain pen.
If you like, you can order a special Kuligraphy rubber pad, I invented and use this instead of a cardboard. But for the beginning is the cardboard perfectly adequate. You can order the rubber Pad here: Shop – Kuligraphy rubber pad
Get your Worksheets
Now you can download the worksheets I created for you.
Place the first sheet on the table in front of you with the cardboard or the Kuligraphy pad underneath.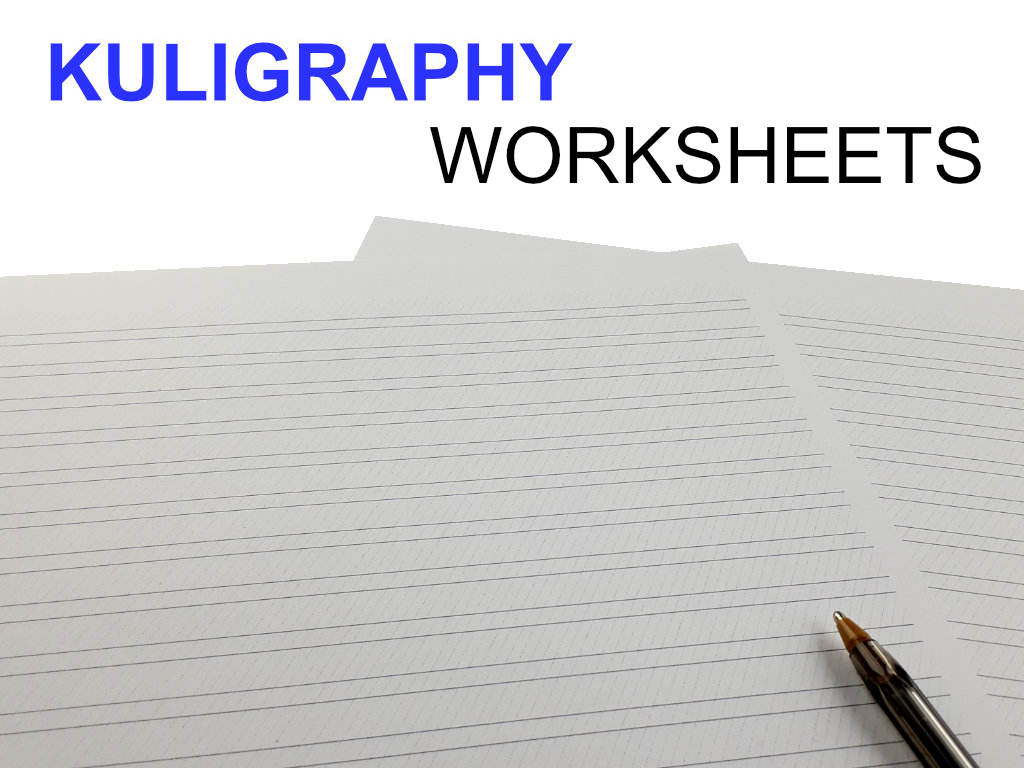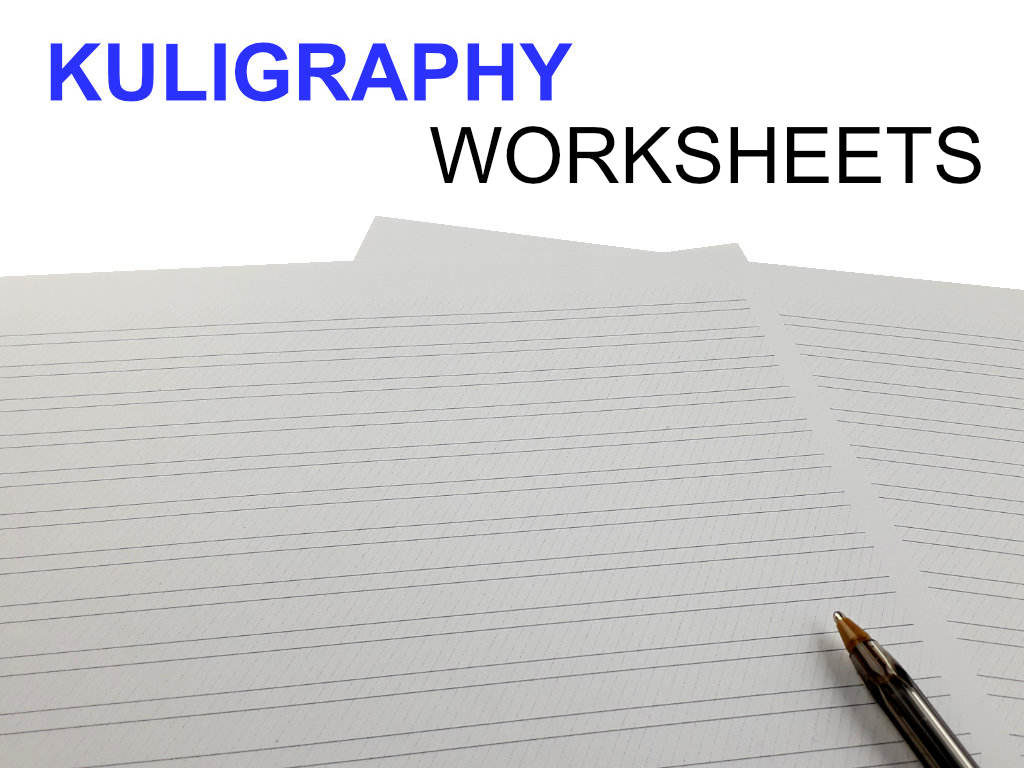 You can find these sheets here: Kuligraphy worksheets
You can start with a normal printer 80-90g/m² paper if you don't have thicker paper around.
For the perfect look and the best writing experience, it's better to use thicker paper with 100-200g/m² paper.
I use 100g sheets and can recommend buying those from amazon for example.
Start practicing
Start with the first letters to practice.
It's not important how you hold your pen in the beginning. Just hold it like it is comfortable for you.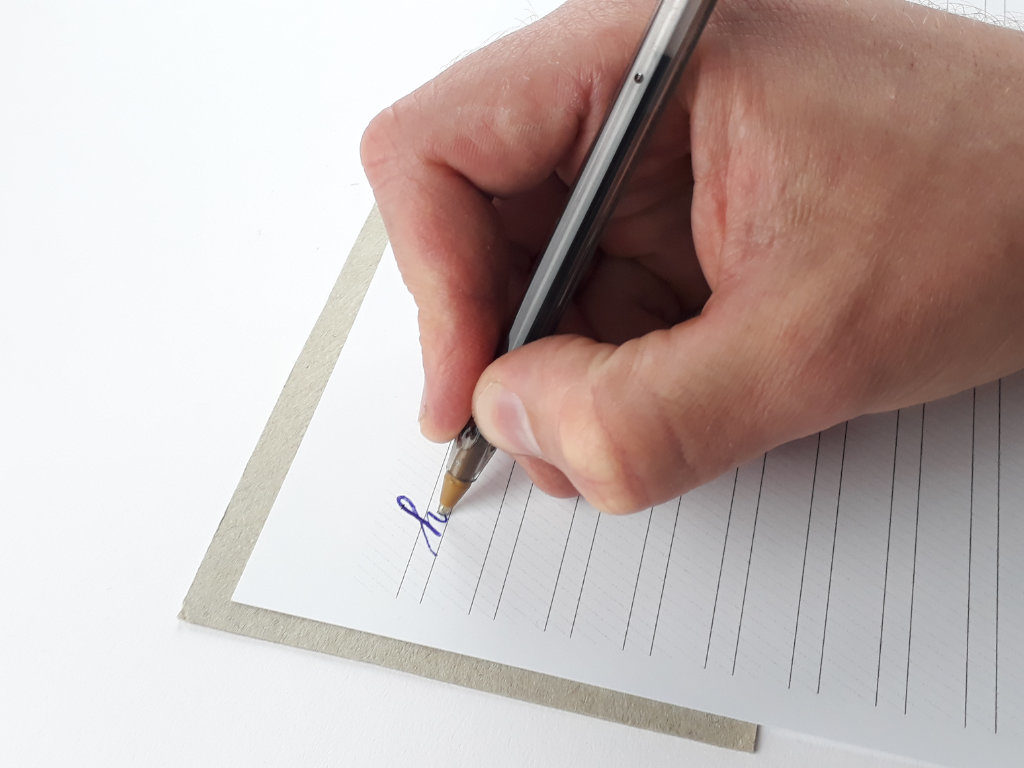 At first, you should try to stay between the lines and keep the letters at the right angle. The thin angled lines will help you to do this.
In the next step, you should try to match the right pressure on the pen when you do the down and upstrokes.
Common Problems
I probably had most of the problems when I started Calligraphy with a pen.
Teaching other people Kuliraphy has given me a list of problems beginners have.
Here are my answers to common Kuligraphy problems.
My letters do not look like yours they're all the same thickness.
Do you use a piece of cardboard or a bit softer surface like a Kuligraphy pad? No? There you have it.
To solve your problem grab a piece of cardboard, buy a Kaligraphy rubber pad or use multiple sheets 5-8 under your sheet.
Do you apply enough pressure on your downstrokes?
Add some pressure on the pen when you write a downstroke. I might be weird at the beginning but you will get used to it very quickly and your letters will look good.
Where to Go From Here
I can be frustrating in the beginning because you just started and don't see enough progress.
This is normal and should not discourage you.
You should have fun in the process of learning Kuligraphy and develop new writing skills you didn't know you have.
Here are some of my first tries with a ballpoint pen.
And how does it look now?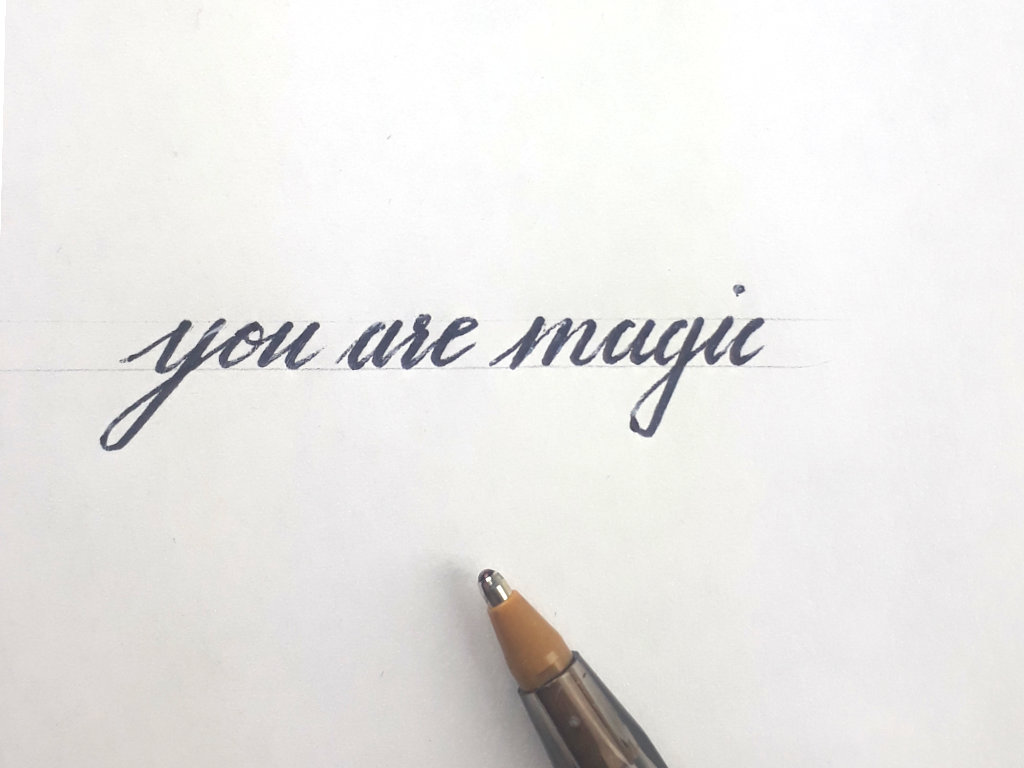 Everything comes with time, patience and practice.
So don't forget to have fun in the process. The neat-looking words will come by themselves.. trust me.
Are your ready to learn Calligraphy with a ballpoint pen and improve your handwriting?
Start now and learn Kuligraphy!
Didi "Let's learn traditional Kuligraphy" Peters
Did you like the article or is something missing? Let me know in the comments.
---